The right glove for every application
These are high-quality chemical protective gloves, cleanroom or glovebox gloves. Thanks to special elastomer formulations and the highest quality standards in production, they meet the most varied requirements in terms of application and occupational safety. The gloves have proven themselves in worldwide use at leading companies in the chemical, pharmaceutical and semiconductor industries in the areas of glovebox applications and insulator technology.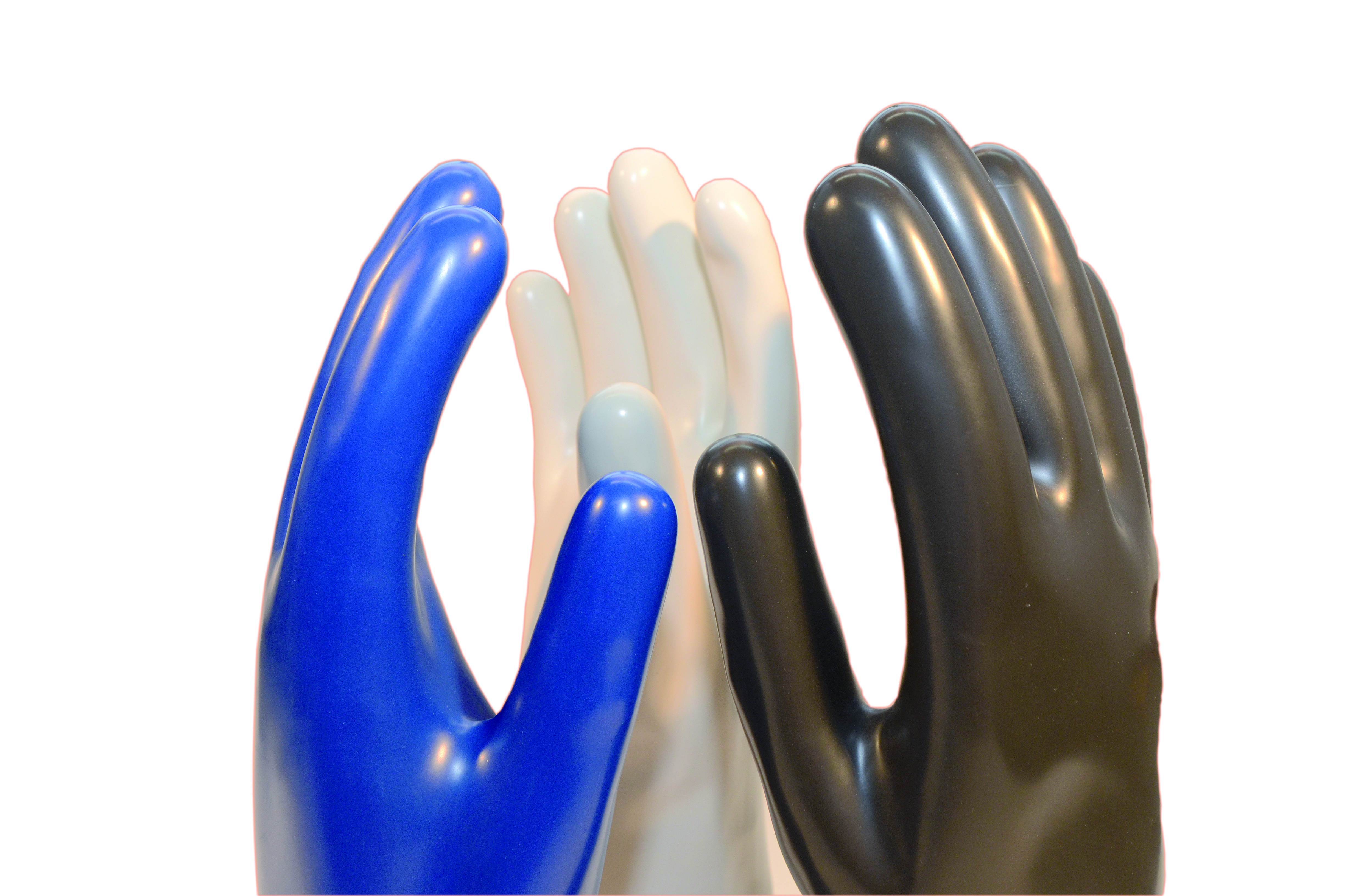 Gloves made of different materials
EPDM
Resistant to many oxidizing chemicals
Halogen-free, suitable for foodstuffs
Steam sterilizable
UV and ozone resistance
No electrostatic charge with earthed voltage
The EPDM glove offers the user a high wearing comfort and thus provides a very good tactile sensation. The ingredients of the model conform to the current FDA positive list, which applies to the criteria of the pharmaceutical, medical and food branches.
Show EPDM Glove Datasheet
EPDM+
UV and ozone resistance
Resistant to many oxidizing chemicals and hydrogen peroxide
Halogen free
Suitable for foodstuffs
Steam sterilizable
Two-layer structure
In contrast to the glovebox gloves commonly used up to now, the ingredients comply with the FDA positive list. The EPDM+ glove consists of a black user side and a white outside. This makes it easy to detect external damage such as pinholes.
The possible applications of the glove are not limited to pharmaceutical applications. It can also be used at any time in the food sector. Another special feature is its halogen-free material composition, which allows it to be disposed of in incineration plants. The glove also has very good steam sterilisability.
Show EPDM+ Glove Datasheet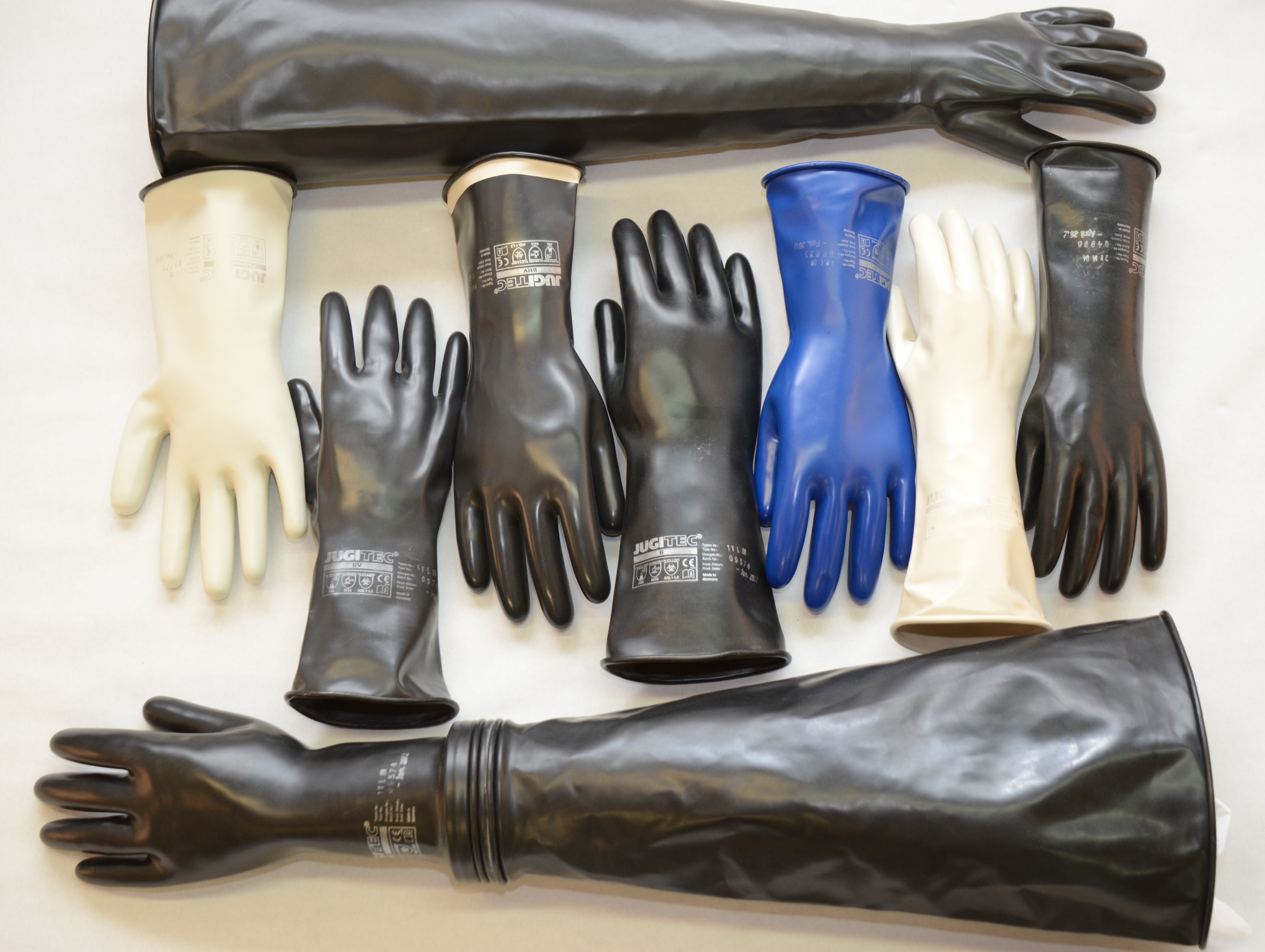 Bromobutyl
High impermeability to water vapour, gases and high resistance to a variety of toxins
The glove is excellently suited for extreme loads when working with ketones, acids, esters and amine derivatives. It also has a special advantage with regard to its high gas impermeability. Butyl offers very good flexibility and a good grip even at low temperatures. Its good temperature resistance also allows it to be used in adverse climatic conditions.
Show Bromobutyl Glove Datasheet
CSM
High resistance to oxidizing media, acids, bases, polar organic media and ketones
The CSM glove offers exceptional resistance to oxygen, ozone aging, UV radiation, heat and chemical products. It is recommended for work with oxidizing products, concentrated nitric acid, concentrated hydrochloric acid, ammonia, concentrated alkalis and alcohols.
Show CSM Glove Datasheet
ISOflex
Resistant to hydrogen peroxide and isopropanol
Suitable for foodstuffs
Latex free
Highly flexible
Highest degree of dexterity
Good mechanical properties
Very good puncture resistance
Good ageing and ozone resistance
The ISOflex is a special glove made of XSBR elastomer. This glove variant offers the user a particularly high wearing comfort and provides a very good tactile sensation.
The ingredients of the special glove comply with the current FDA positive list, which applies to the criteria of the pharmaceutical, medical and food markets. The glove is translucent.
Show ISOflex Glove Datasheet
If you need another glove with special properties, please contact us.